If your business is looking for a reliable plumber, you can rely on eci.
Since our inception in 2001, eciService has provided local businesses with unmatched plumbing services. Throughout the years, our team has worked on a variety of unique projects. These experiences have given our employees skills and knowledge that is unparalleled in the industry. eciService is here for you, whether your business needs plumbing repairs, replacements, or installation.
Located in Dillsburg, Pennsylvania, our plumbers are proud to provide service to Central Pennsylvania and the surrounding area. eciService is available 24-hours a day, seven days a week, offering emergency services when your business needs them the most.
eciService understands that each clients needs are unique, so our team approaches every project individually and searches for the most innovative way to solve their specific problem. If your commercial property requires plumbing solutions, eciService is confident that our team of problem solvers can provide the right solution for you.
Beyond having employees skilled at their craft, our staff consists of reliable and responsible plumbers who will complete the job to your specifications. eciService takes pride in our ability to finish a project within the time frame that we guarantee.
As a business owner, you can depend on eciService to deliver high-quality plumbing services at a reasonable price.
It may be difficult to find a quality commercial plumber that is right for your business, but you can rely on eci. .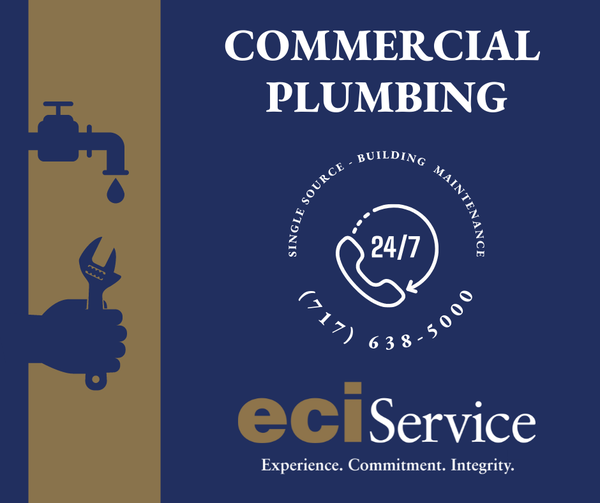 Your people were remarkable! Thanks again and please pass on my compliments and appreciation to EVERY ECI person who worked on this project for a job "very well done."
Joseph Wotjysiak
Senior Director, HACC Facilities Management Dept.
Everyone here has been very pleased with the quality of workmanship and attention to detail we have received under eci's service plan. As you know eci has built new buildings, built additions, have done remodeling projects and a rebuild from fire damage. Over the last 9 years we have relied on eci for a host of building services and I have been very pleased with everyone's efforts and results.
Tom Kampel
Kampel Enterprises